April 28: Just after my first brief visit on opening day, Hiromi and I made our way back to the Shin-Marunouchi building again in search of a late breakfast. It was still a madhouse.
Point et Ligne Bakery, Shin Marunouchi Building, Tokyo
We couldn't help but buy a lot of bread here. Point et Ligne bakery carefully illuminates the bread, but prefers to keep the staff as a background feature, assiduously assembling your order.
Yes, you want these olive-oil anko-filled baguettes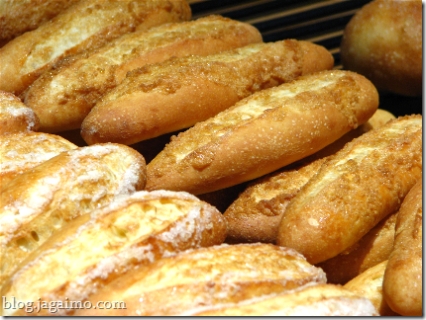 Many bakeries in Japan skip over the savory breads in favor of sugar-laden pastries... There's some sweet stuff here, but I was pleased that even the sweet treats like these olive-oil laden sweet red-bean paste baguettes avoided sugar in the bread itself in favor of an ama-sioppai experience. And there are some savory mini-baguettes just to the left of these for those who want to go straight for the butter...
Oven porn
Point et Ligne's extremely open format doesn't hide the guts of the operation. I wouldn't want to be the one responsible for keeping those beasts sparkling clean...
Contemporary wagashi at Kanou Shoujuan
Ume zerii presented at Kanou Shoujuan, Japanese apricot jelly, available for takeout in a bamboo-shaped cylinder. We took some home to Hiromi's parents, along with a matcha jelly.
Monaka
Monaka, typically sweet bean paste-filled crispy cakes (the outside texture resembles an ice cream cone), also from Kanou Shoujuan.
14 Juillet Debutante
All dressed up for 14 Juillet's second day of courting new customers.
Cassis eclair at 14 Juillet Tokyo
Black currant eclair. You must have one. We did. We will never be the same.
14 Juillet Sorbet
In case pastries don't suck you in...
1F Cafe that spells like Emeril
Although the photos of their coffee look pretty, I can't bring myself to go inside a place that spells espresso like this. And no, I don't think it's a Japanese mistake... it's far more difficult to make an "ekkuspuresso" sound in Japanese than to say "esupresso." Some highly paid consultant is clearly responsible.