I worked on some simple tasks today and did some customer visits, and finally got some photos I can use for the matsutake gift pack on YuzuMura.com.
My roommate and I had a guest for dinner, and I was in the mood to make some simple Japanese-ish dishes.
Yakionigiri no ochazuke with very good umeboshi
I prepared miso-brushed grilled rice balls, yaki-onigiri served with pickled Japanese apricots and pickling shiso. I poured a really nice organically-grown sencha from Shizuoka over the onigiri, but it was very light, because it was the first infusion... In retrospect, I realize I should have served the first pour to drink, and the second pour for the ochazuke.
Yakidoufu
This is a little bit American preparation of tofu, perhaps; I grilled tofu on my electric grill pan, and served it with a dipping sauce of ginger, shouyu, a few drops of roasted sesame oil, and negi (spring onions). I've seen grilled tofu in Japan, but rarely.
Kabocha no nimono
My absolute favorite fall nimono (poached/simmered dish) is kabocha, Japanese squash. This involves simmering squash, dashijiru, salt, Japanese soy sauce, mirin, and occasionally a bit extra sugar, until soft. The ideal flavor develops the next day, but it also tastes good served after it has cooled a little bit.
Dashi-maki tamago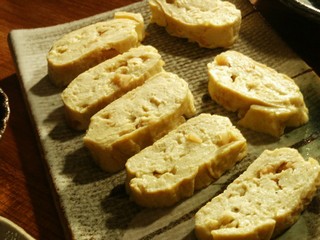 I also made dashi-maki tamago, which in this case has bits of some Japanese pickles between the layers of eggs.
Finally, I made an atypical, but very tasty aemono with broccoli, raw sugar, salt, and mirin. This would be more commonly done with spinach than broccoli, but my nearby supermarket didn't seem to have anything other than expensive baby spinach. Alas, all of the photos of that were totally out of focus, but it was actually the surprise of the night; it tasted better than I expected.
Dinner is served.