I sent Hiromi these photos from tonight's dinner and she called it "obaachan no ryouri" or grandma food.
The results were nice, but not flawless..
I was experimenting with making nagaimo dango in soup, and I overruled my initial impulse of making the dango using only wheat flour, nagaimo and a pinch of salt. I thought the texture might be more interesting if I added some katakuriko. This seemed to make the dough very sticky and my experience making gnocchi didn't provide useful sensory reference points to judge the consistency, so when I boiled the dango, they got a bit chewy.
On previous occasions, I've used katakuriko and blends of katakuriko and kuzuko in dango recipes, but I was generally following a recipe that wasn't terribly temperamental. In this case, I added two unknowns: the nagaimo, and the katakuriko. I think it will take a few experiments to get the ideal texture.
I made one of my favorite variations of hiya-yakko, made with yuzu-kosho, which is a paste made from the ground rind of yuzu and ground chilies, and a splash of Japanese soy sauce. A few years ago I served a very potent yuzu-kosho with some godoufu or another similarly mild side dish, and a knife-tip portion of yuzu kosho. I guess my plating needed some work; in Japan, I have seen similar presentation, and I knew the flavor was quite powerful. But one my guests thought I had mistakenly dropped something on the plate. When I explained the flavoring, they realized that it was the perfect amount for the dish in question, but it was a bit surprising to them. This time, I used a fairly substantial amount; roughly a third to half a teaspon. Actually, my yuzu-kosho has lost a bit of its aroma over time and I only had small amount left. So this amount was just about right, and not overwhelming.
I also made some quickly fried Japanese eggplant, dressed with nothing more than grated ginger, some sesame seeds, and a little Japanese soy sauce. This is one of my absolute favorite ways to serve eggplant, because it is so incredibly simple and flavorful. For this preparation, I usually slice the eggplant for this quarter lengthwise, then halfed crosswise, but I thought this might be a bit too visually repetitive, since I planned to serve another eggplant dish sliced lengthwise. I chose instead to use a rolling cut (mawashi-giri).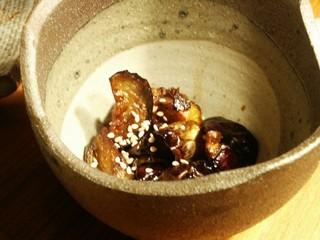 I also made some dengaku-nasu, which I nearly lost to neglect. I roasted lengthwise-sliced halves of eggplant, then added a mirin-sugar-miso paste which is a classic topping for broiled tofu, called "dengaku-miso" or "neri-miso." My dengaku-miso is usually smoother and thicker than it was tonight, so I was a little frustrated that it wanted to slide off of my eggplant. My broiler also cooked a little faster than I expected so I almost over-caramelized the topping.
This was dinner… I added some tsukemono after I set everything out.
I prepared a small delivery to the Women of Color luncheon organized every 3 months or so by Assunta Ng. When I can, I have been providing some promotional giveaways and coupons for a gift bag that they offer to attendees.
Part of the day I was also trying to debug some stored procedures intended to help me quickly add multiple similar items to my online store. Due to various quirky little bugs, it turned out to be more distracting than immediately productive, but I know I need to do this work to simplify my life. I am not quite finished, but I've done enough work that it speeds up adding the metadata for the photos I'm putting up right now. Actually, though, I'm kind of debugging the code one addition at a time, so this particular batch may not be finished very quickly.