Hiromi and her cheer team had a game on Monday, April 30, just before we headed off to Aomori for a little hot spring vacation and late hanami at Hirosaki.
She's part of Club Cranes, a 2nd-division X-League American Football team sponsored by Toa construction company.
Because there's a fairly long warmup, Hiromi suggested I could wander around the station or drink coffee for a while before heading to the stadium via taxi. But one of her teammates suggested that this was altogether unnecessary, and that perhaps I could serve as their paparazzo for the day. We grabbed some takeaway bento for me and some onigiri for Hiromi right at the station, and the entire group gathered into two or three taxis to head on over to the stadium.
I sat down in the stands at first, but was invited to come down and take a bunch of photos right from the sidelines.
Hiromi
Rehearsal action shot
Chillin'
High energy
Sidelined for a few weeks...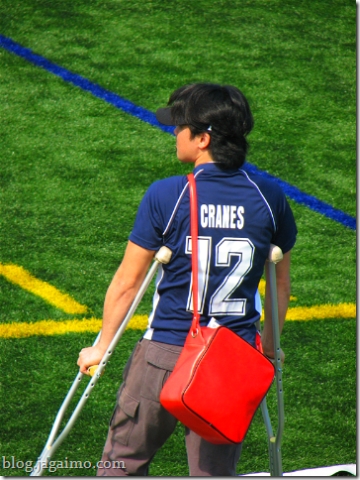 Warming up
The big guy heading back to switch to game gear
After some warmups, it's game time... the Cranes players and cheerleaders change into their game colors. I got to stay close to the action...
The pre-game bow
An early touchdown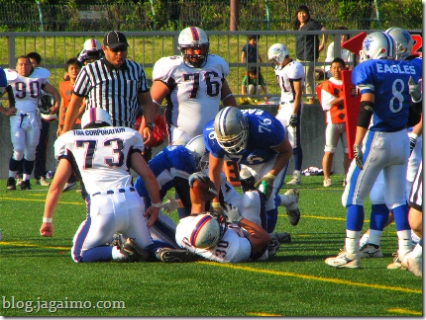 Hiromi's team took the early lead, but missed the extra point... It put them at a slight disadvantage for the first half.
Rooting for the offense, down by 1
6, 7, 8 and hold
Charging ahead
Most of the team
Miyu and the captain
Go Cranes
Not without risk
Satoko's announcement
That looks painful...
But at least I'm not at the bottom of all this...
Announcement by Megumi
Trio 1
Trio 2
Tough
A young fan and her mother
The big win
More photos are on the Cranes Cheer Blog...
After the game
Everyone else ordered a kind of set meal, but since I'm the odd duck and don't eat animal bits, we ordered a few vegetarian items. With 40 or so people, we completely filled the tatami room at the edge of the little Chinese restaurant we visited.
We had a little to drink, a lot to eat, and some people made a series of little speeches and a few very personal announcements...
My poor camera's 2 GB memory card was completely full at the end of the day, thanks to a couple of days without transferring to my laptop and the excessive number of photos I took that day, but I found some completely blurry images I could toss and made room for a few hurried food shots...
Fried tofu, sweet chili sauce, and cabbage
Pickled vegetables
Slightly crunchy stir-fried potatoes
Chuuka fuu no goma-ae
 

 

, paparazzi