We stayed at an onsen ryokan (hot springs resort) called Asamushi in Aomori city.
Most Japanese ryokan, given sufficient advance warning, are reasonably accommodating of vegetarian needs, though they don't always quite understand them. Usually things work out, with occasional use of non-vegetarian soup stock or a garnish of katsuobushi. In some cases, the food ends up being a bit ascetic.
Ryokan also tend to veer toward the fairly esoteric, so some of these dishes I've never seen before.
My spread
I was mostly happy with the taste of the food at our first ryokan this trip, but the meal ended up being surprisingly devoid of protein... usually there's at least a bit of tofu or some egg dish, or sometimes some yuba. This time, though, there wasn't even a hint of that. Even my nabe dish was little more than a suimono, though I think Hiromi's had a little tofu. The actual dishes were actually quite nice, but I felt a bit low in energy after the meal, which rarely happens when I eat at ryokan.
Hiromi's spread
Hiromi's had a bit more seafood, of course.
A few side dishes
These were some of Hiromi's side dishes. 
Youshoku?
Apparently Aomori has a fondness for youshoku, or Western food, as we discovered later in Hirosaki. I think this presentation, offered to Hiromi, was meant to be a kind of cute deconstructed pasta dish. My version had some grilled bamboo shoots with a miso sauce.
Spring nimono
One of Hiromi's dishes, this features fu (the cute cherry blossom shaped wheat gluten item), kagomi, shrimp, and takenoko (bamboo shoots).
Itadouri no ohitashi
Itadouri, Japanese rhubarb or knotweed, one of many spring sansai (mountain vegetables). While not technically rhubarb, it has a slightly acidic bite to it. When lightly dressed, it's slightly vegetal and gently bitter.
Fuki no tou
Fuki no tou, the sprouts of butterbur. This is particularly common in spring in northern Japan, but it's also found, and eaten, frequently in other parts of Japan.
Ohitashi
A simple dish of blanched greens.
Tsukemono
Or so I think...
Kagomi no aemono
More mountain vegetables...
Unidentified sansai
I don't quite recognize this, but I believe this is the mountain vegetable that we spotted along the river...
Sansai Tempura
I always seem to end up with tempura at ryokan... even if they aren't serving it to everyone else... It seems to be a typical substitution for a sashimi course. This one features some mountain vegetables, mostly kagomi.
Some more vegetables with sakura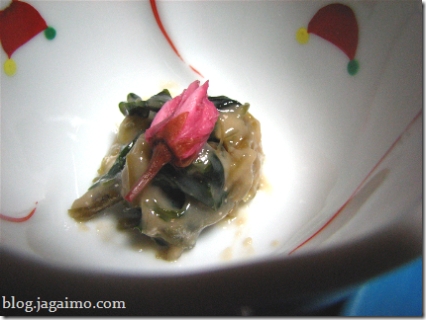 I think this is was a mustard-flavored aemono, but my memory is failing...
Daikon to negi no suimono
A light clear soup with daikon and negi.

Living nama-shirasu

[YouTube:wgDAdsp7peQ]


As a special treat for Hiromi, the ryokan brought a small dish to our room featuring these nama-shirasu, which were still alive and kicking.

I've seen Hiromi refuse to taste something only twice. The first was bundaeggi, and she pretty much says all bugs are off limits. The second was this. I'm not sure the taste or aroma would be terribly shocking, but it seemed just a bit too disturbing for her. Actually, strangely, I think it bothers me less than it does her... and I don't eat any fish... Though I guess the point is moot.

Note the splashes of soy sauce along the side of the bowl are the work of the fish, not of sloppy plating.
(Video Link, in case video embedding doesn't work for you) 
After dinner, I ate some kurogoma ice cream to get at least a little hint of protein, and Hiromi ate a really nice apple sorbet.
 (See also: Breakfast at Asamushi)