The last few days I've been fairly social, meaning that my kitchen is seeing only minimal use. Except for a Friday night experiment preparing chappati and Indira's green garbanzo and paneer dish with a haphazard, soft, homemade almost-paneer that was more like Ethiopian lab cottage cheese, I've mostly played it safe, seeing as I was heading to parties.
Even my home cooking was rather conservative, including some simple dishes like Roesti for brunch, with a sour cherry shake on Sunday afternoon, an idea stolen from a Matthew Amster-Burton article a month or so ago.
My camera wasn't really handy on the weekend, but since almost everything was a rerun, I'm just going to apologize for recycling some old photos.
Saturday I had to run an errand that made me late for my first party of the weekend, so I thought of two things I can make with about 5 minutes work.
Roasted potatoes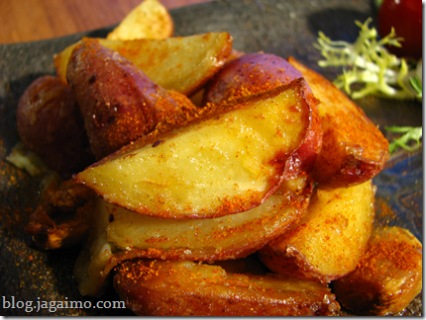 Roasted potatoes just take a little slicing, a little rubbing with olive oil, and a sprinkling with salt, seasoned or otherwise. I could carry all the equipment I needed with me to the party, do the quick preparation, and take over the unoccupied oven for about 25 minutes and out came some magic. The version I actually served involved Volterra/Ritrovo's porcini salt. (Roasted potatoes I last posted about here).
Insalata caprese
A staple of my summer repertoire, insalata caprese with heirloom tomatoes is always a crowd-pleaser when the tomatoes are at their best. Even though I prepared this before everyone's eyes at the party, people still thought there was some mysterious technique to make the dish taste good... But it was just the buffalo mozzarella, tomatoes, basil and olive oil that mattered most, along with a sprinkling of salt on the tomato slices and some fresh ground pepper over the whole thing.
Channa gobi masala cups
Channa gobi masala cups, a variation of the channa gobi masala nests I've made before, this time using sheets of filo rather than the shredded kadaifi. For some reason, PFI didn't hae the kadaifi, but the little filo cups are equally appealing. The curry was a simple cauliflower-split chickpea dish with finely chopped vegetables, just like above. The cups were just butter-brushed filo sheets folded so that they would make little cups in my mini-muffin tin. Baked until crispy and golden-brown, they provided a convenient package for party-sized nibbles.
I'd almost call this a rut, but I know better. I don't usually take big risks when heading to someone else's party... Simple, familiar (to the cook, anyway) and temperature-flexible fare is what potlucks are all about. Plus it's an unseasonably warm summer... even I want to get out of the kitchen as quickly as possible.