If you're a suitably fortunate madamu, you wouldn't be caught dead in your husband's favorite, smelly neighborhood robata-ya restaurant. However, that doesn't mean you would completely eschew the idea of charcoal-grilled altogether. You just want it to be a little more elegant... and perhaps a little less heavy on the smoke.
For those well-heeled women, there is Yasaiya Mei, a high-drama robata-ya in the sparkly, mine-like structure known as Omotesandō Hills.
Hiromi and I had eyed this spot after our previous outing to Omotesandō, and put it on our list of places to come back to. The dinner menu was out when we first walked by in the late afternoon, and it was fairly tempting, so we tried to find an excuse to come back.
We made plans for lunch with Kristin of eGullet and some of Hiromi's friends for a weekend lunch, and ended up choosing this spot since absolutely none of us would be able to make it there for lunch on a normal workday. For most of us it was a bit of a splurge, certainly for lunch, though some people got away with a slightly less expensive set. Lunch goes for JPY 2400-4000 ($22~40).
Two people, including me, ordered a spring vegetable set meal with some partial vegetarian accommodations. A British software developer in our group also prefers to eat vegetarian, so we ordered the same menu option. However, in just a couple months in Japan he's resigned himself to eating fish, preferring just to avoid chunks of pork and chicken and the like because it adds so much complexity to dining out, so he
On this trip I've found that restaurants we've visited have been surprisingly accommodating for my vegetarian quirk. It's not customary in Japan to accept special requests (or, more importantly, to make them) at restaurants, so that hasn't always been the case. I don't know if it's because we tended to eat in fairly high-end spots, if we just happened to stumble on places with excellent service standards, or if things are gradually changing.
Hiromi and Kristen ordered a special-of-the-day lunch, and one person ordered a simple curry set meal. Grilled items weren't terribly prominent, but were featured in most of our meals.
First course, vegetable set
Five little vegetable-highlighting dishes... as usual, practicing a vegetarian diet in Japan requires a sense of humor and a tolerance for fish-as-garnish, as in the case of the typical katsuo-bushi (shaved bonito) dressed ohitashi (blanched vegetable dish, center) and the sakura-ebi (tiny shrimp) garnished sunomono (sweet vinegar dressed dish, left).
Sappari Aloe
Our server noticed that one of the dishes in this starter course was made with crab, and without me asking, quickly swapped that dish out for an elegant and refreshing aloe ohitashi, which was meant for today's special lunchbox. A few years ago, aloe as a vegetable became all the rage throughout Asia, and this simple dish is reflective of that. It's reminiscent of mozuku, thanks to the neba-neba (sticky) qualities of the aloe and the slightly acidic sauce.
Ume gelee-dressed vegetables
This ume-gelee dressed vegetable dish was surprisingly sappari. I guess I'm a sucker for Japanese apricot, but I was almost expecting this to be either strangely sweet or intensely sour; instead, it was well-balanced and full of pleasing contrasts.
Potato and green bean salad in bamboo "bark"
This simple bamboo shoot and green bean aemono gets a dramatic treatment with a garnish from the outer layer of a bamboo shoot.
Vegetable curry rice set
One of Hiromi's friends ordered an elegant Japanese-style curry rice with an unusual presentation... the rice comes adorned with goya (bitter melon), takenoko (bamboo shoot) and other vegetables, and the curry itself is served in a gravy boat, which the guest uses to pours the hot curry over the rice herself... some pickles and another small side dish accompany this.
Two-tiered lunchbox
I was too distracted to remember all of the things that come in the day's special two-tiered lunchbox, but the list was so long on the menu that I stopped reading carefully. It includes some agemono (fried foods), a rice dish with ikura (seasoned salmon roe) and bamboo shoots, a few yakimono (grilled fish, vegetables and meat). I think the confetti-puff-rice covered ball is a kind of meatball.
The starter tier
The upper tier includes an aloe dish (as above), a kind of nagaimo pudding (I think), renkon (lotus root) chips, and a little maguro.
Vegetable set second course
My order comes in two stages, and this second course features a rice dish, a grilled dish, a poached glutinous rice ball, and miso soup.
Steamed rice with fava beans
Soramame (fava beens), maybe some nanohana (rapeseed greens), and some kind of ingen (green beans), along with some mushrooms and an herb garnish top my steamed rice.
Nimono, perhaps, with glutinous rice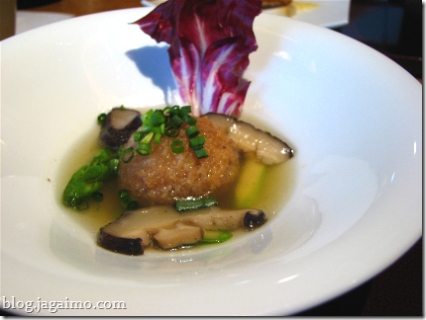 This glutinous rice ball is poached a bit in seasoned soup stock and served with shiitake slices. It was hard to resist.
Yakimono
This was my set of robata-grilled dishes... the always-tempting spring takenoko, grilled bamboo shoots; grilled asparagus, shiitake, a cherry tomato, and a little nut that I'm forgetting the name of.
The bowl makes the miso soup
Spring greens in a strong miso soup.
Pickled gourd
Most of us got this surprisingly tasty pickled hyōtan, or gourd. I can't recall actually eating hyoutan anywhere else before. I wouldn't hesitate to eat it again... I was surprised. It was fairly ordinary, as pickles go, but I just haven't seen it before.
Shokugo
To finish the meal, everyone received a little tea (low-end matcha), and two kinds of wagashi. One is similar to warabi-mochi (right), and the other is a flavored rice cake.
We weren't quite finished... After our big lunch, we wandered off to chat more and to have some contemporary, reimagined wagashi at Toraya just a few floors below...