A specialty of northern Japan, and particularly popular in Iwate and Akita prefectures, Kiri-tampo are usually made with uruchi-gome, which falls into the category of everday rice. The other two categories of rice are mochi-gome, the pearly glutinous rice, and saka-mai, which is riced used for brewing sake.
Miso-dare kiritampo
We stopped at a small lake-front gift shop while between cities in Aomori. We weren't in any hurry to do any actual shopping, but we started looking at the types of things offered as fancy Aomori omiyage so that we could be suitably jaded by the time we were actually ready to buy.
I was sucked in by a little storefront window where a woman was busy grilling kiritampo over hot sumi, Japanese oak charcoal.
We had to have one. Each.
Although breakfast was heavy, we hadn't really eaten a real lunch, so this was a nice light snack, and very reasonably priced. We placed our order and the obachan handling the grill suggested we head upstairs to sit down, where we could sit in relative comfort facing the lake.
Middle of nowhere, Aomori
Five or ten minutes later, our kiritampo arrived, dressed with a sweet-salty miso flavored tare (sauce). It was far more than we ever hoped it to be.
We found, but did not make use of, this helpful device...
Tabletop fortune-teller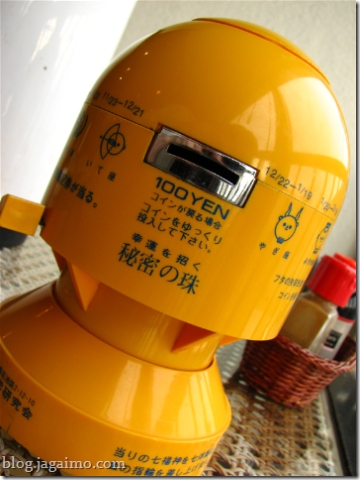 For just 100-yen, you could use this old-school tabletop device to obtain an all-knowing omikuji, complete with horoscope.