Hassaku Orange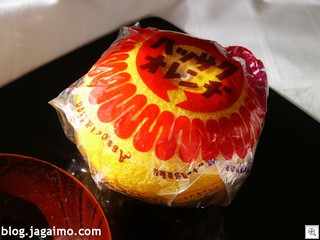 A somewhat dry-fleshed, thick-skinned orange, possibly from Ehime prefecture, popular for its sappari or refreshing taste. It's a bit bitter and perhaps a bit similar to a Seville orange.
Matcha madeleine
Not quite shaped like a traditional madeleine, this was a conceptual sample from one of my green tea suppliers made with a madeleine-style batter.
Matcha cake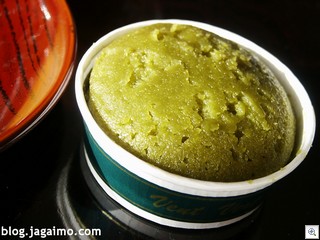 This matcha dessert was more of a pound cake style.
Zundamochi and Ayamemochi
Zundamochi are daifuku made with edamame paste. They'd probably be more impressive in cross-section, but we were hungry already. We found them at Mura-kara-machi-kara-kan.
Smoked egg
One of our smoked eggs, before peeling. We ate the smoked eggs for breakfast in the hotel.
Okayu
A few years ago a chain of okayu restaurants sprouted up around Tokyo, even offering brown rice and multigrain versions. With modest 200–300 calorie portions and optional add-ins, the restaurants are popular with women in their 20s and 30s. There are no unaccompanied men in most of these, and I was one of perhaps two in the restaurant. Hiromi had the yuba and greens okayu in the foreground, which had 5 grains; mine was a brown rice okayu with fried onions and greens, with an add-on onsen tamago (soft-boiled egg).
Kabocha mushi cake
I've forgotten what they called it, but this is essentially a steamed cake with chunks of kabocha, and ever so slightly sweet. It's actually in the "yum-cha" or dim-sum part of the okayu shop's menu, rather than their dessert section.
Annin-doufu
Almond "tofu", a flavored gelled dessert.
Sakura ice cream
Cherry-blossom ice cream, from an old-school kissaten near Meguro-station that serves average quality vacuum-pot coffee and various sandwich-like nibbles. The ice cream appears to be a lightly-flavored cherry ice cream served on a cherry leaf and topped with shiozuke, or salt-pickled cherry blossom. This one wasn't terribly salty, so they may have rinsed it first.