Biwa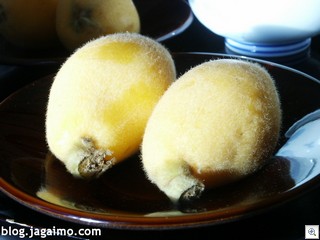 Mountain peach, loosely. A bit out of season.
Sakura kintsuba
Wagashi filled with cherry blossom seasoned shiro-an.
Nagare-zakura
Painted, sculpted shiro-an with a cherry blossom theme, filled with koshi-an.
Three kinds of umeshu
Nigori (unfiltered) umeshu, kokutou (black sugar) umeshu, ryokucha (green tea) umeshu. No, I didn't drink them all; we went to a restaurant in Futako-Tamagawa, Tama-no Baiken, that featured a lot of house-made umeshu variatons and each of us ordered a different one. Mine was the nigori on the far left, and I stole a sip of Hiromi's kokutou, both of which I would recommend.
Umeshu, frequently mistranslated as plum wine, is made by infusing a kind of green Japanese apricot in a neutral spirit such as shochu or vodka.
Nanohana and hamaguri
Hiromi and her mother ordered this clam and nanohana (rapeseed plant) dish.
Haru no yasai no tempura
Fuki, bamboo shoots and other spring vegetables, prepared as tempura.
Kuromame tounyuu toufu to yuba no nabe
Black bean "soymilk" hotpot, with custardy tofu, yuba, leeks, and greens. We were wanting the benefit of some yuzu-koshou to enhance the experience, but this is basic Japanese homestyle comfort food with a bit of a twist.
Kisetsu no nimono
Spring vegetable nimono (simmered vegetables), with some not-quite-so-seasonal kabocha and satoimo.
Agefu
Deep-fried wheat gluten.
Tsukemono no moriawase
Pickled napa, Japanese cucumber, mustard eggplant, aka-kabu (red turnip), daikon.
Nama-fu no dengaku
Broiled "fresh" wheat gluten, with a sweetened miso sauce. On the far right is one with yomogi (mugwort) and a dark miso.